Health IQ is the only Medicare broker that uses your detailed
health record
and our AI platform to find a plan truly tailored to your needs.
Start Now
The Precision Medicare
Process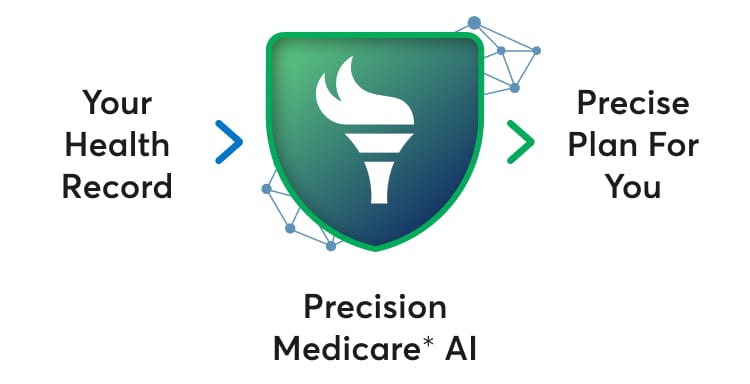 Health IQ searches over 3,000 plans in the country from well-known national carriers.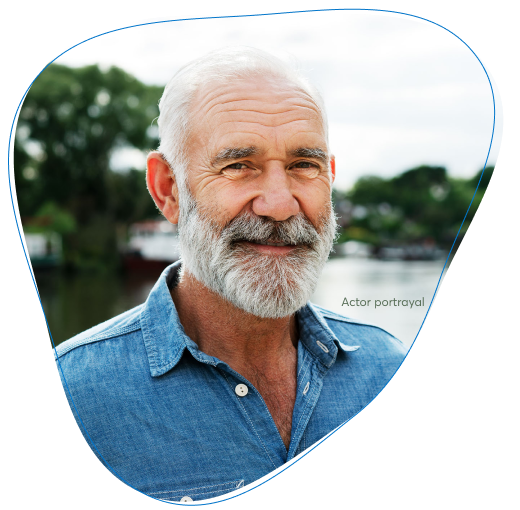 "I need new glasses. My vision has changed over the years, and it's been probably eight or nine years since I've had new glasses. My doctor said I need a new pair, but on Social Security I can't afford that kind of money out of my check. I've got congestive heart failure, I'm a diabetic and I have circulation problems."2
– Frank
(Health IQ Medicare Customer)
How
Precision Medicare

works
Health IQ finds plan recommendations based on your needs under 5 minutes
Step 1
Import your health record with one click
You give us permission, and we automatically import the last 7 years of your health record with your doctors, pharmacies and prescriptions.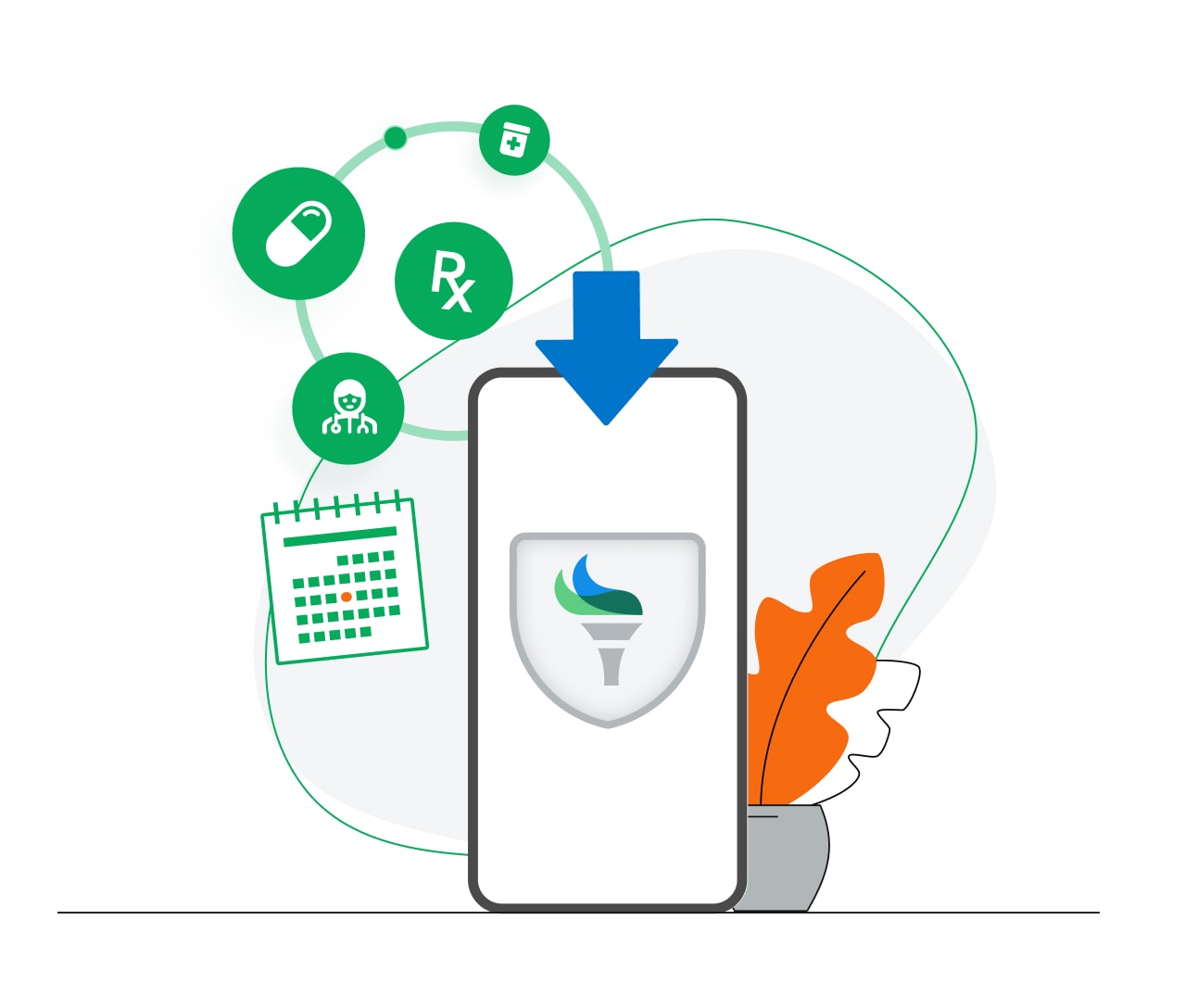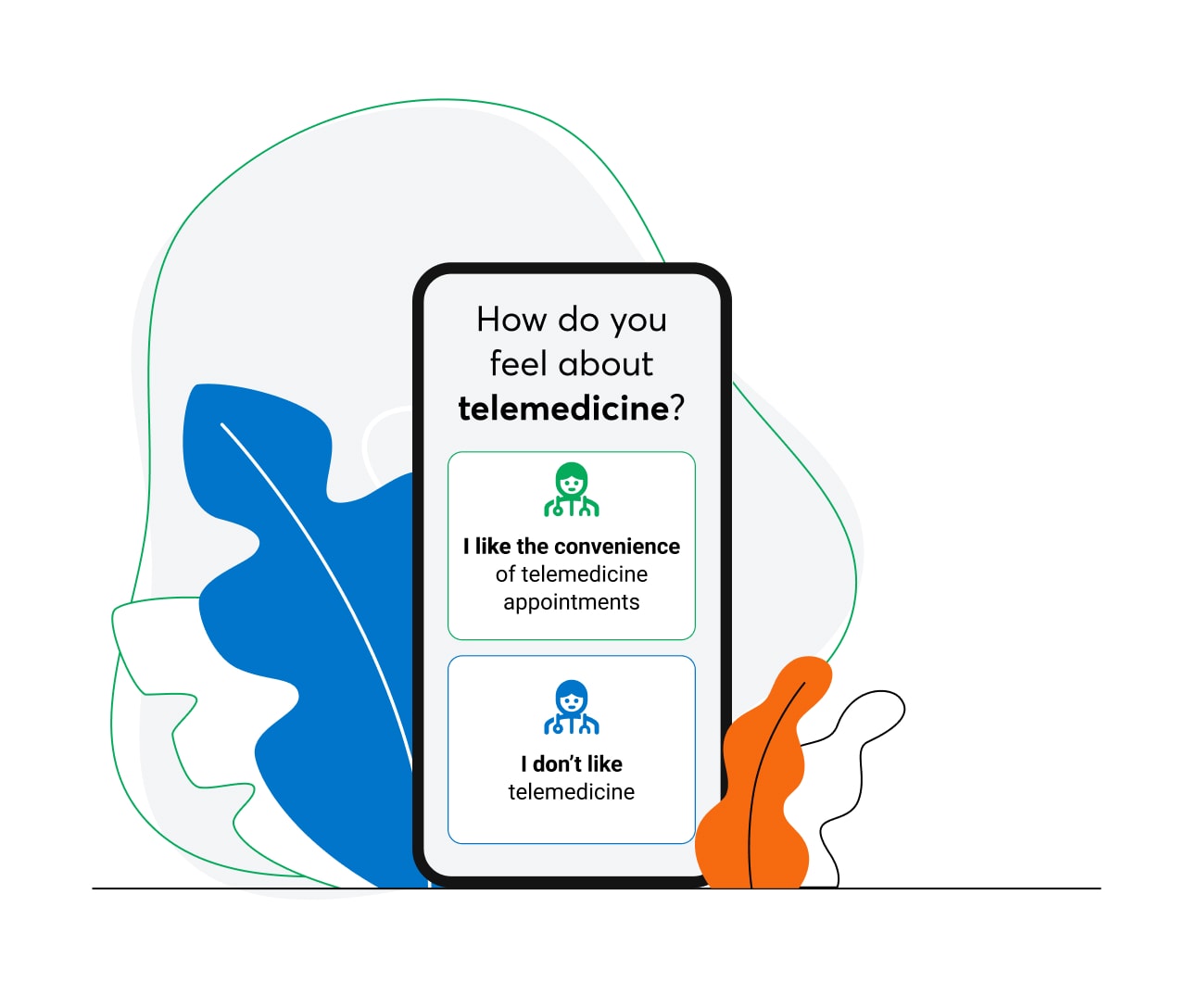 Step 2
Tell us your healthcare preferences
Do you prefer 30-day or 90-day refills? Should we consider an upcoming knee replacement? Do you prefer doctors who speak your language? Would you rather see the doctor in an office or virtually from home? Are you a snowbird or a homebody?
Step 3
We forecast next year's healthcare needs
Our AI provides a detailed prediction of what healthcare treatments and services you may need next year by analyzing all of your diagnoses, treatment codes and labs.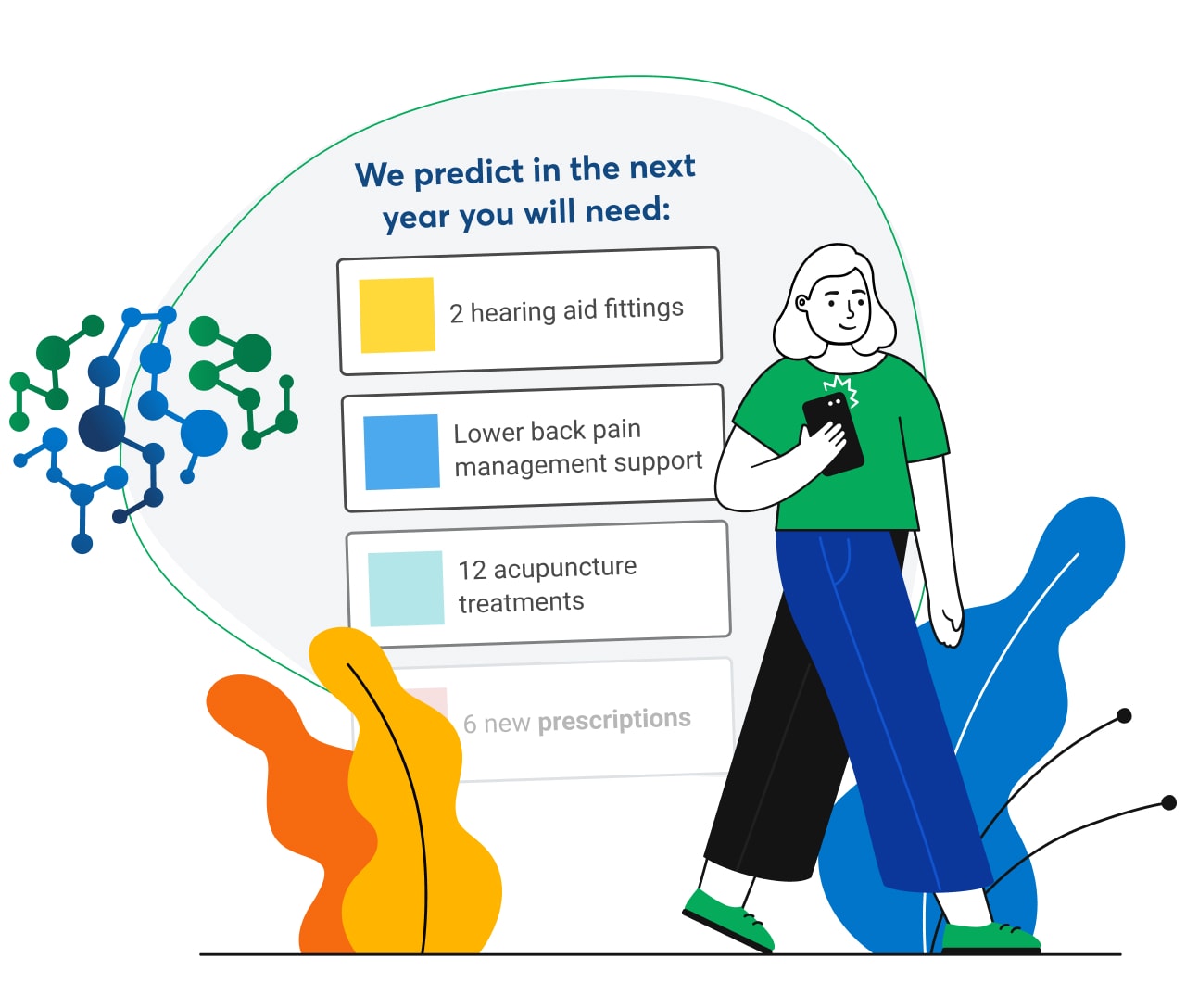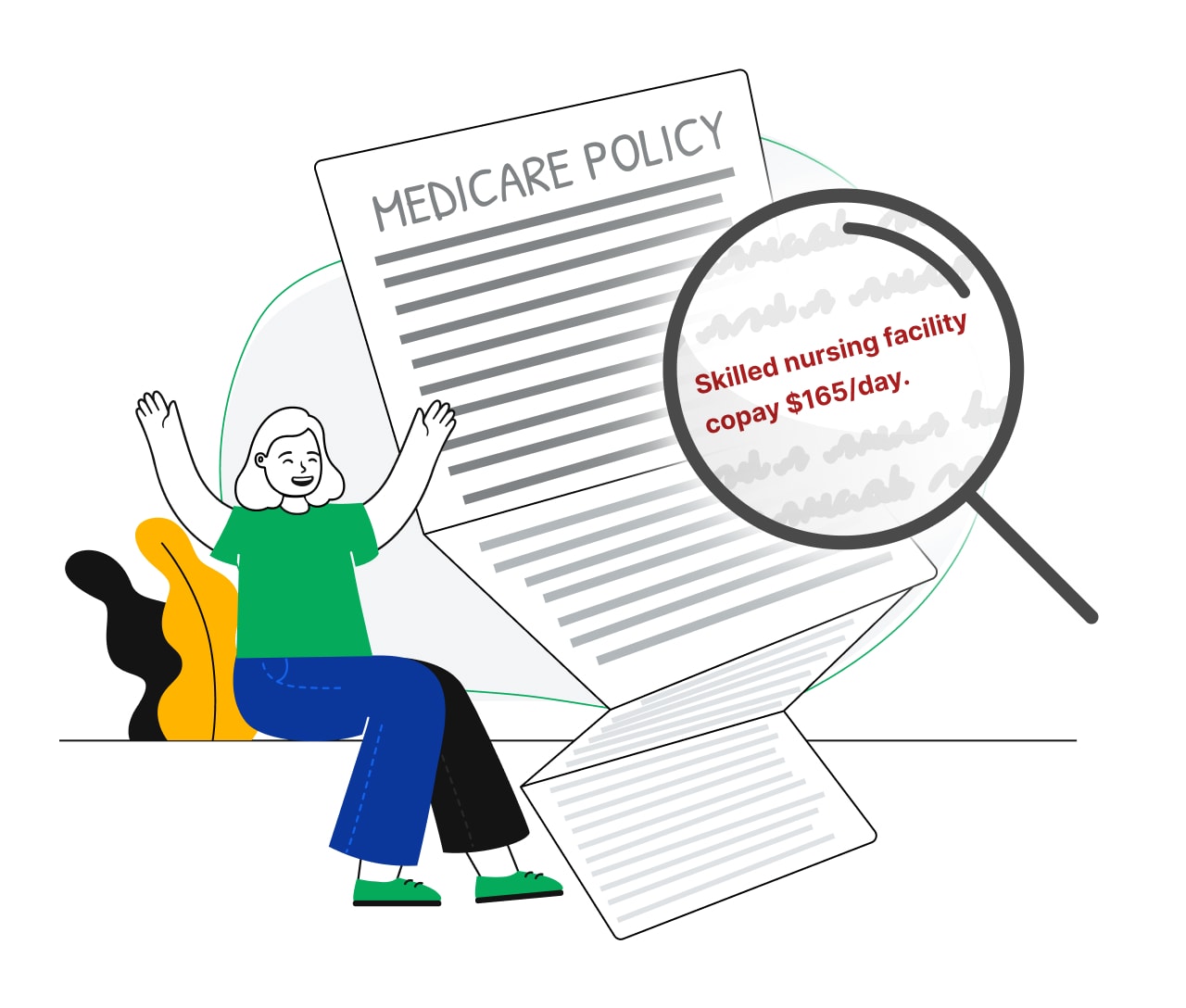 Step 4
We analyze the fine print of over 3,000 plans1
We analyze the benefits of thousands of plans to help find the coverage you need for your specific conditions and treatments. Beyond that, we also look at network restrictions, ease of approval, usage caps, prior authorizations needed, referral guidelines, benefit limits, and total
out-of-pocket costs.
Step 5
Get the precise plan for your needs
We recommend the plan that will best fit your current needs, preferences and possible future needs. You'll get a detailed breakdown of which plans we offer in your area that include your favorite doctors, have the best benefits for you, and feature the lowest out-of-pocket costs for your needs.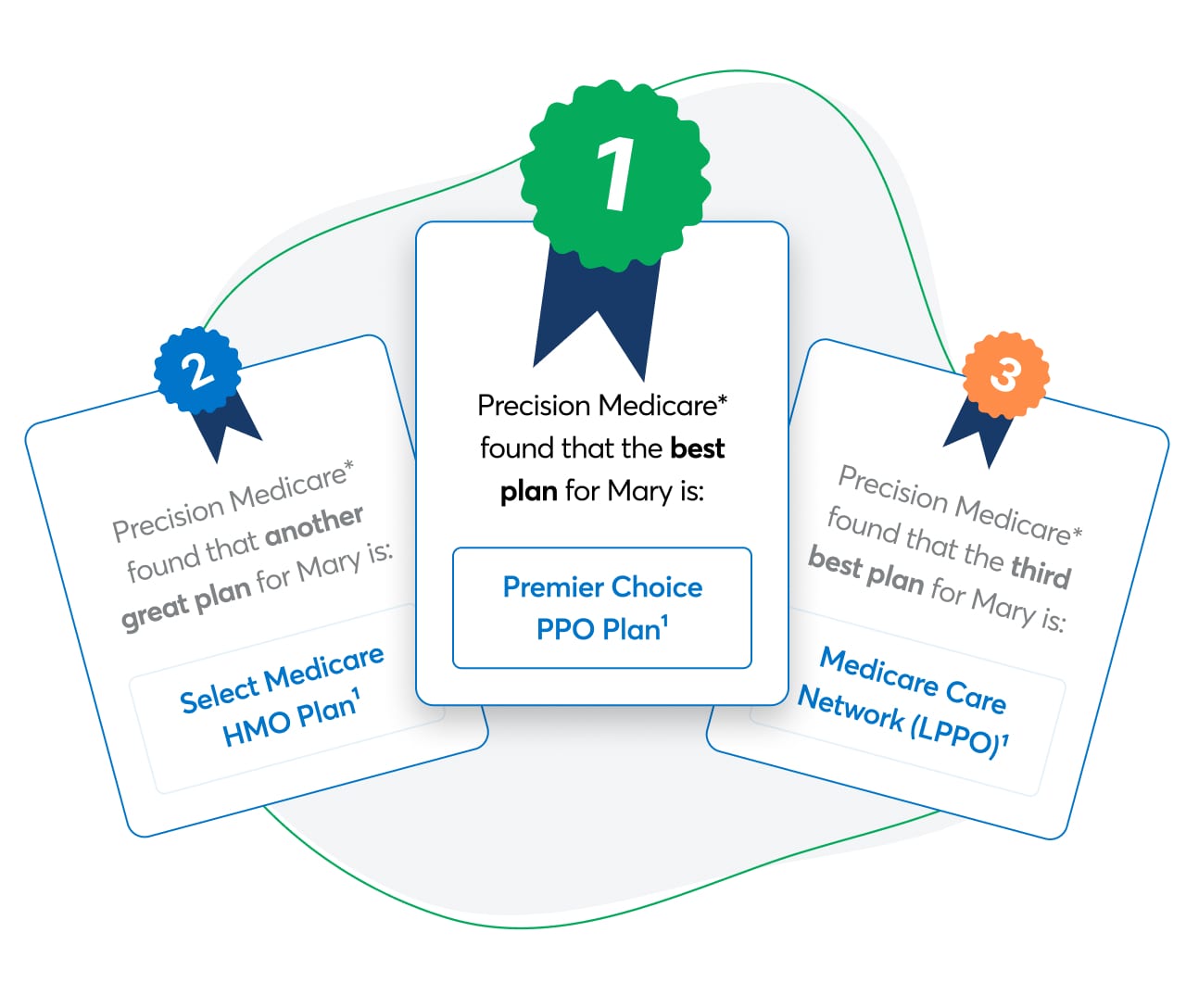 Precision Medicare
understands

your needs
Here's what we learned about
Jeanette
Jeanette lives in Tampa, Florida. She lives with COPD from smoking and is determined to kick the habit.2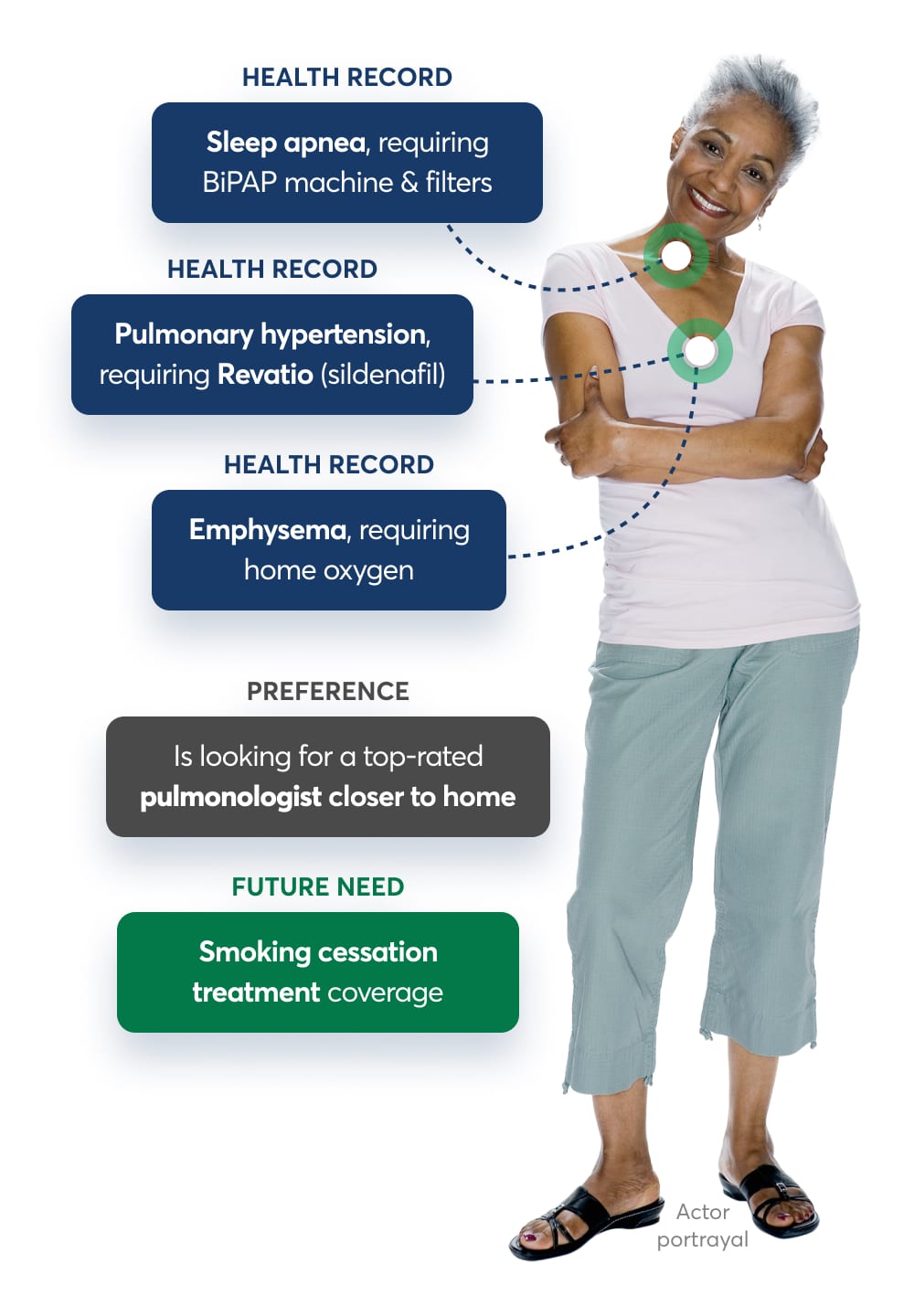 Here's what we learned about
Joel
Joel lives in Cincinnati, Ohio. He has advanced type 2 diabetes, and is starting to see some of the advanced impacts from this condition.2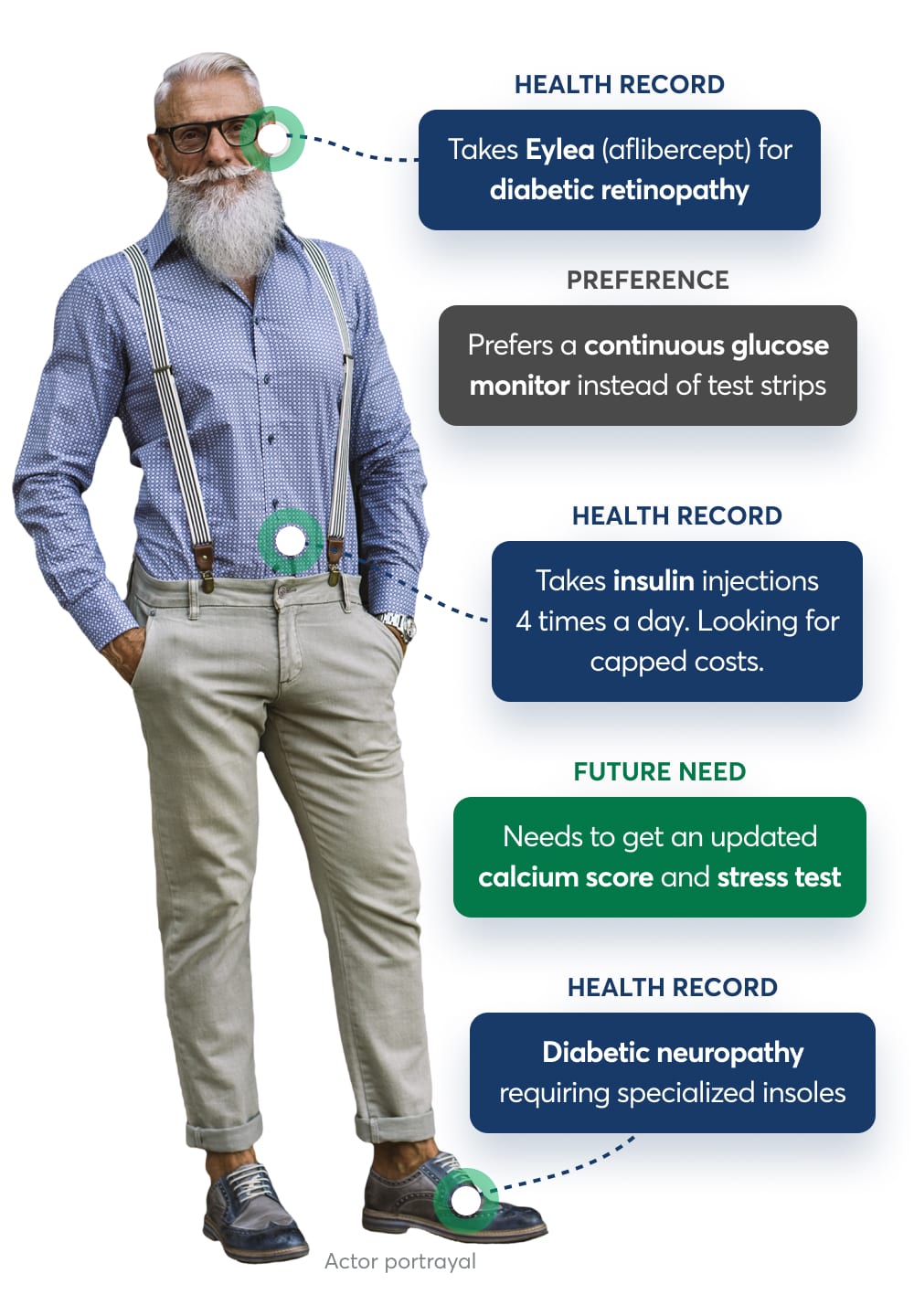 Getting to know
Mary
Mary lives in Vancouver, Washington. She struggles with knee and wrist pain and is worried her sight might be getting worse.2
Here's what we learned about
Miguel
Miguel lives in Plano, Texas. He is a retired truck driver who hasn't seen a doctor in three years.2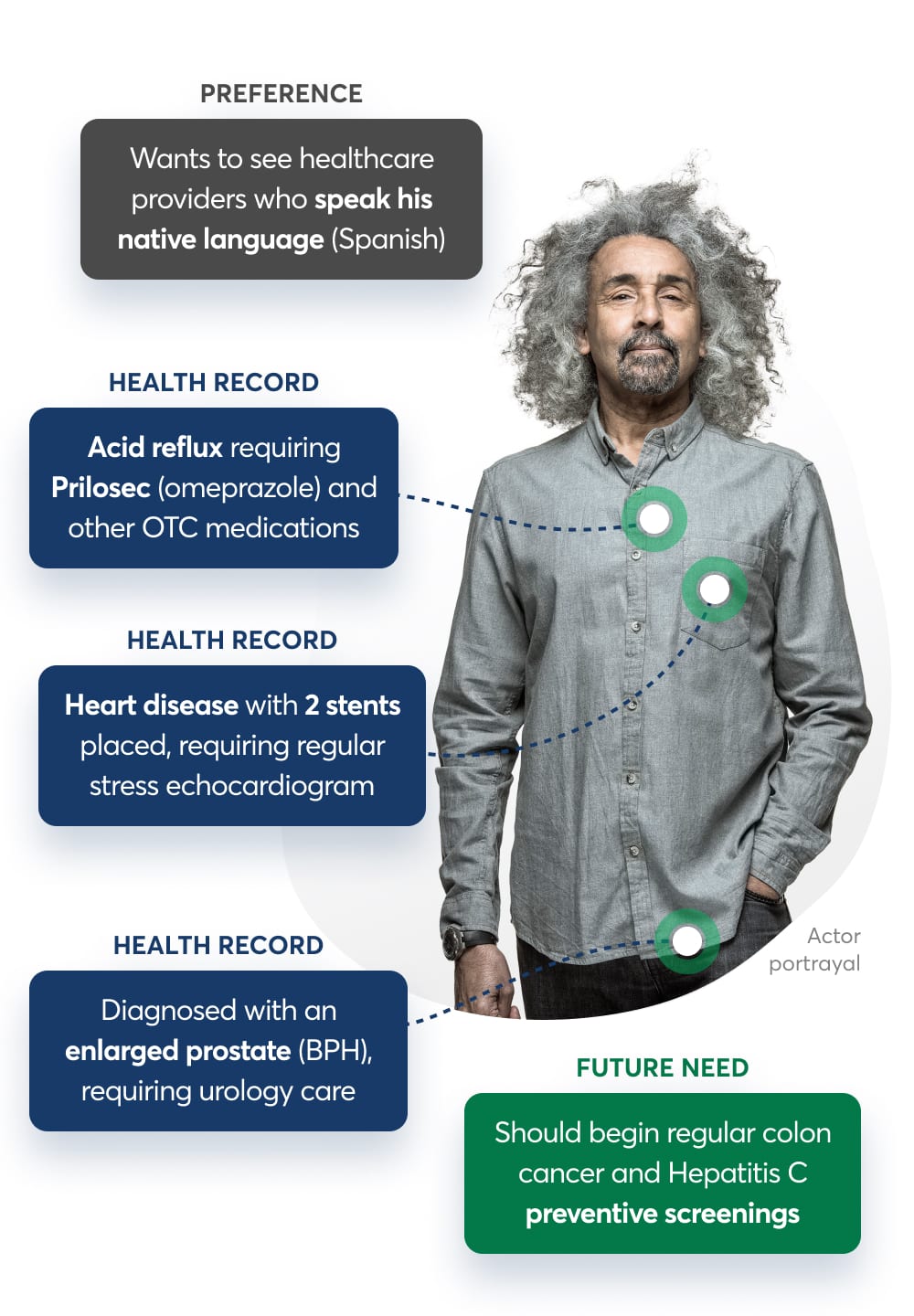 As seen on...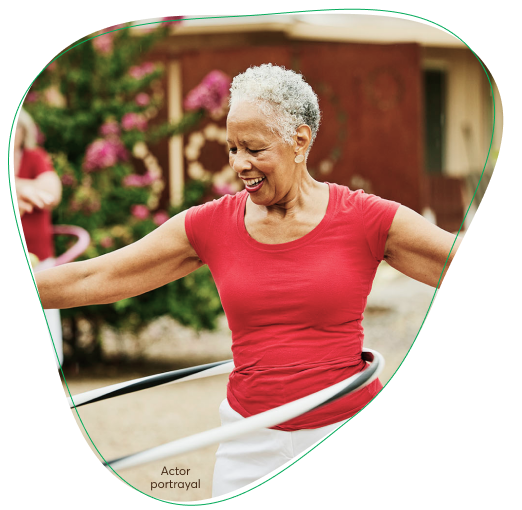 "My insurance company told me I could only get coverage for hearing aids if I went where they wanted me to go, not where I wanted to go. Thank you for the time you've spent with me on this problem."2
– Carolyn
(Health IQ Medicare Customer)
Not ready

to get your Precision Medicare Plan?
Try one of our free
health record powered
 apps
Or
click here
to call one of our licensed insurance agents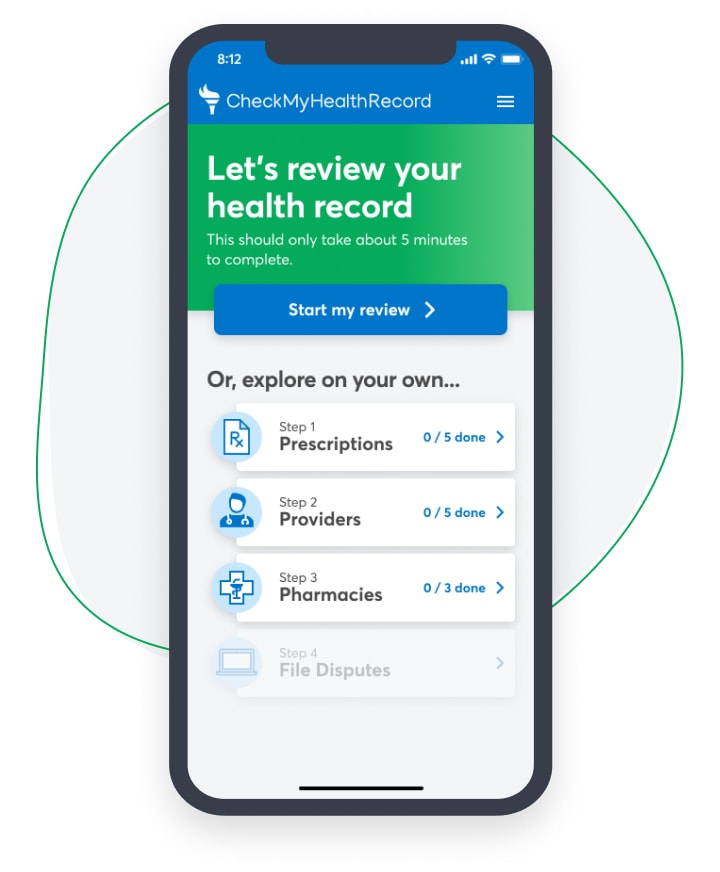 CheckMyHealthRecord
™
CheckMyHealthRecord™ is a safe, easy and free way to check your consolidated health record, identify inaccuracies and file disputes.
2.3MM
People are the victims of medical identity fraud.
3
78%
Have errors that could result in insurance denials.
4
1.3MM
Emergency room visits from drug reactions.
5
MyRxMail
™
Get medically personalized content delivered to your inbox each week. Choose the topics that matter most to you to receive information including:
New research on your conditions
Coupons and discounts for your medications
Tips & tricks on reducing side effects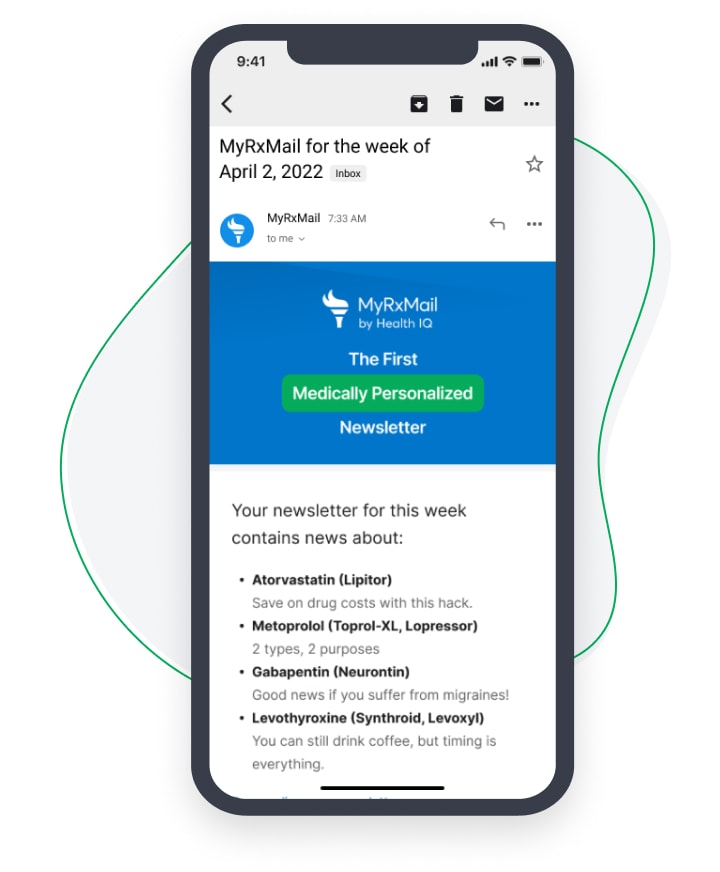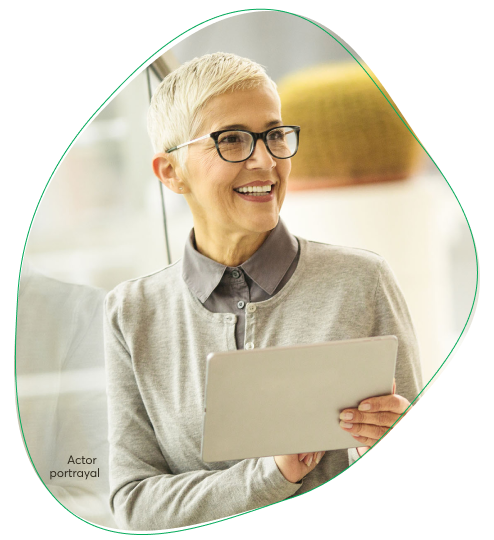 "My Health IQ agent was patient, kind, professional, and explained everything fully. He answered all of my questions. I truly believe he cared enough for me to find the absolute BEST plan for my Medicare Health coverage."2
– Linda
(Health IQ Medicare Customer)
Our Mission
Precision
Medicare
At Health IQ, our mission is to ensure that all seniors
6
are seen and treated as
unique individuals
by the healthcare system.
Read More About Our Mission