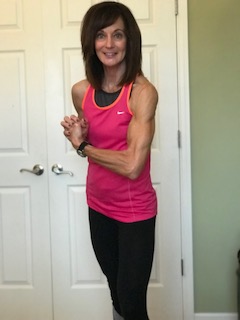 When Jennifer stepped into her local gym for the first time in a while, she didn't think she was stepping into a career. In her early 20's, wanting to get into shape, Jennifer started taking aerobics classes at her local YMCA.  That's when she discovered her first love, step aerobics. "It brought me much happiness" Jennifer tells us, "because I was helping others get into shape."
In her mid 30's, after teaching step for years, Jennifer wanted a new challenge for herself.  She decided to run a 5k and recruited her sister, an avid runner, for training help. In her very first 5k run, she placed first in her age group.  Not feeling challenged by running anymore, she turned to biking, which quickly became her second love.  She even taught biking classes.  "It brought me much happiness," Jennifer tells us, "because I was helping others get into shape."
Now at 53, Jennifer is involved in a wide array of fitness activities. From running to biking, step classes to Kickboxing, she is well versed in the many flavors of fitness, making her an excellent teacher. Jennifer also tells us that her diet is just as important as her workouts. "My diet is clean," she explains, "I eat lean meat, fruit, vegetables, protein powder and bars." On top of that, she takes several supplements including multi-vitamins, CoQ10, Turmeric, Magnesium and Biotin.
To Jennifer, an active lifestyle is not only a passion but a continual challenge, "I workout everyday…it's my passion and I love it," Jennifer says. "No one can do this for me only I can do it which makes it a challenge!" We love Jennifer's can-do attitude and commitment to staying health conscious for life!
HOW HEALTH CONSCIOUS ARE YOU?
Health IQ has created a fun way to test your health consciousness. Take the quiz and see how you score!
Copy Code
WordPress: If you're having trouble displaying the quiz and use WordPress, use this HTML Snippet plugin.